The Doctor's Bag
In stock and ready to dispatch
Earn 550 points on this purchase. Join Today
1 point for every £1 spent
Much like The Satchel, the original Doctor's Bag was made for a very specific purpose but had sadly faded from common use. We always loved its heritage and appreciated its functionality, so we fully embraced the challenge of reinventing the style for the modern wearer. The unique structured frame of The Doctor's Bag allows it to open so widely you can put your hand to anything in seconds - handy for doctors in an emergency, certainly, but also pretty useful when you need to answer that all important call or find your keys in a rainstorm. Years in the making, we took the time to source the right leather for that premium look and feel, to perfect its unique frame and to cleverly design hardware that allows for a gorgeous shoulder strap (that all but disappears when not in use - maintaining the bag's lovely silhouette). When something looks this good, it's easy to forget about functionality but let's just say, this will quickly become the only bag you'll want to carry.
- Opens widely for easy access to contents
- Made with premium leather for a luxurious look and feel
- Unique structured frame
- Cleverly designed hardware for a disappearing shoulder strap
- Soft cotton twill lining
- Discreet metal feet for stability
- Secure closure with a gold mechanism and tiny key
- Can be carried by hand or worn across the body with an adjustable shoulder strap
- Versatile for day to night use
- Embellished with the collection name embossed in gold
A very feminine, sophisticated colour – the colour of a dusky summer sky.
Keep your leather bag away from direct sunlight and heat to prevent fading and drying out.
Clean your bag regularly with a soft, dry cloth to remove dust and dirt.
Use our Cambridge Satchel dust bag when bag is not in use.
Apply a leather conditioner periodically to maintain its suppleness and prevent drying.
For more detailed care instructions go to https://www.cambridgesatchel.com/pages/how-to-care-for-your-bag
Sunglasses
Lipstick
A5 Notebook
Pen
Phone
Purse/Wallet
Keys
Book
Chewing Gum
Apple
We're always looking for ways to be more sustainable, because it's already at the core of what we do. Our leather bags have always been made from natural hides, which are a product of livestock farming, and which would have otherwise gone to waste.
What fits inside?
Discover what fits inside your new bag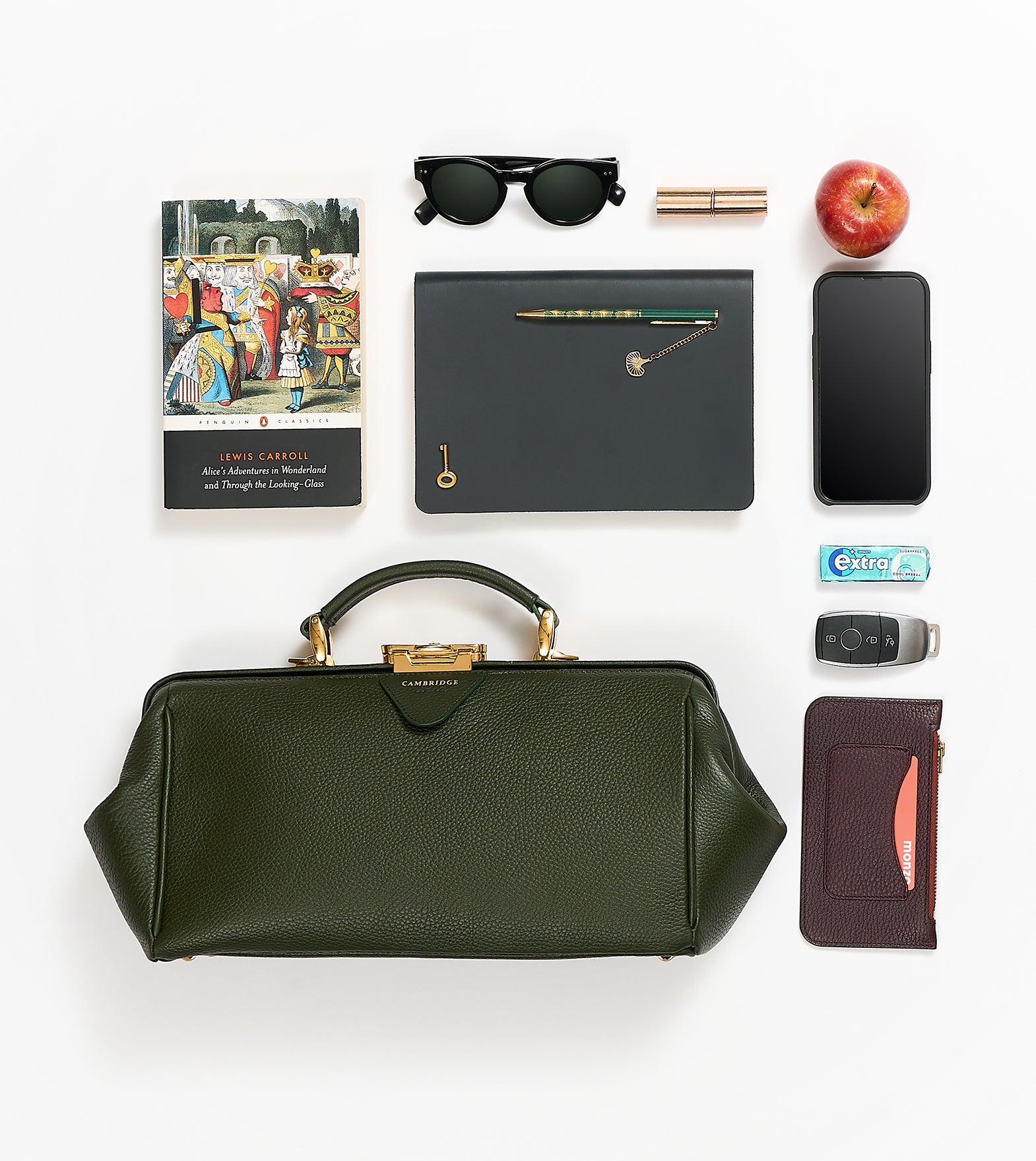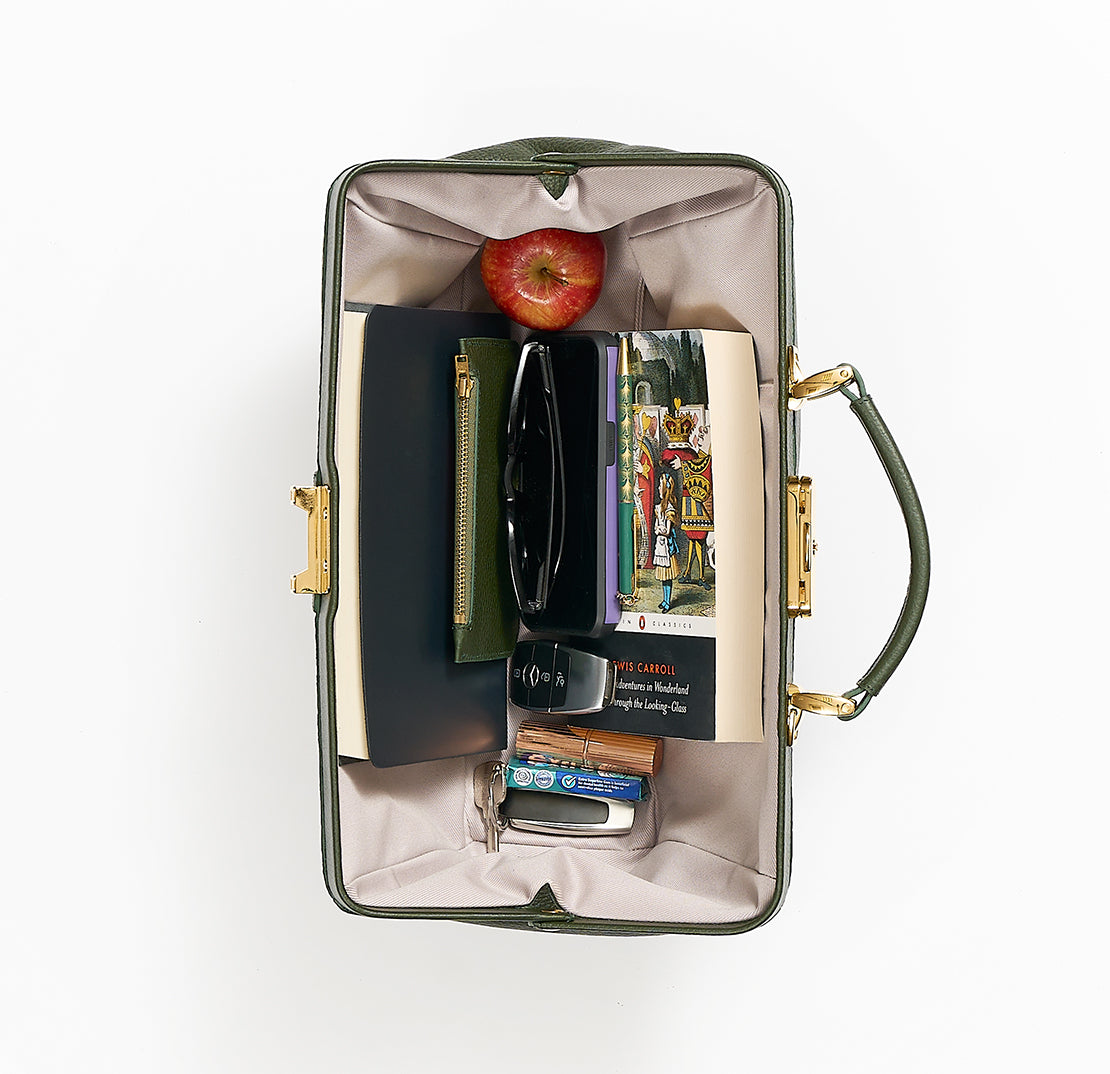 Sunglasses
Lipstick
A5 Notebook
Pen
Phone
Purse/Wallet
Keys
Book
Chewing Gum
Apple
You May Also Like
[[ Current_Color ]]
[[# helpers.colour_count ]][[/ helpers.colour_count ]]
[[# helpers.product_price ]][[/ helpers.product_price ]]
Loved by many
Don't believe us? Here's what others bought
Top Reviews
Real People. Real Love.
Handcrafted in England
We are committed to preserving exceptional British craftsmanship. All our products are handcrafted by our highly skilled artisans at our workshop in the heart of England.
Repairs Service
Our products are expertly made with the finest materials, so if cared for they will last for decades. But we understand that accidents sometimes happen, and we're on hand to help!
Sustainably sourced leather
We embrace leather for its natural durability and longevity. Our commitment to ethical sourcing ensures that our bags are crafted from the finest quality leather – a by-product of the food industry.