The Journal
Find Your Match
It's September - a month of fresh starts, new perspectives and often the urge to reinvent yourself a little. With the need for change, it's easy to feel spoilt for choice when trying to match somet...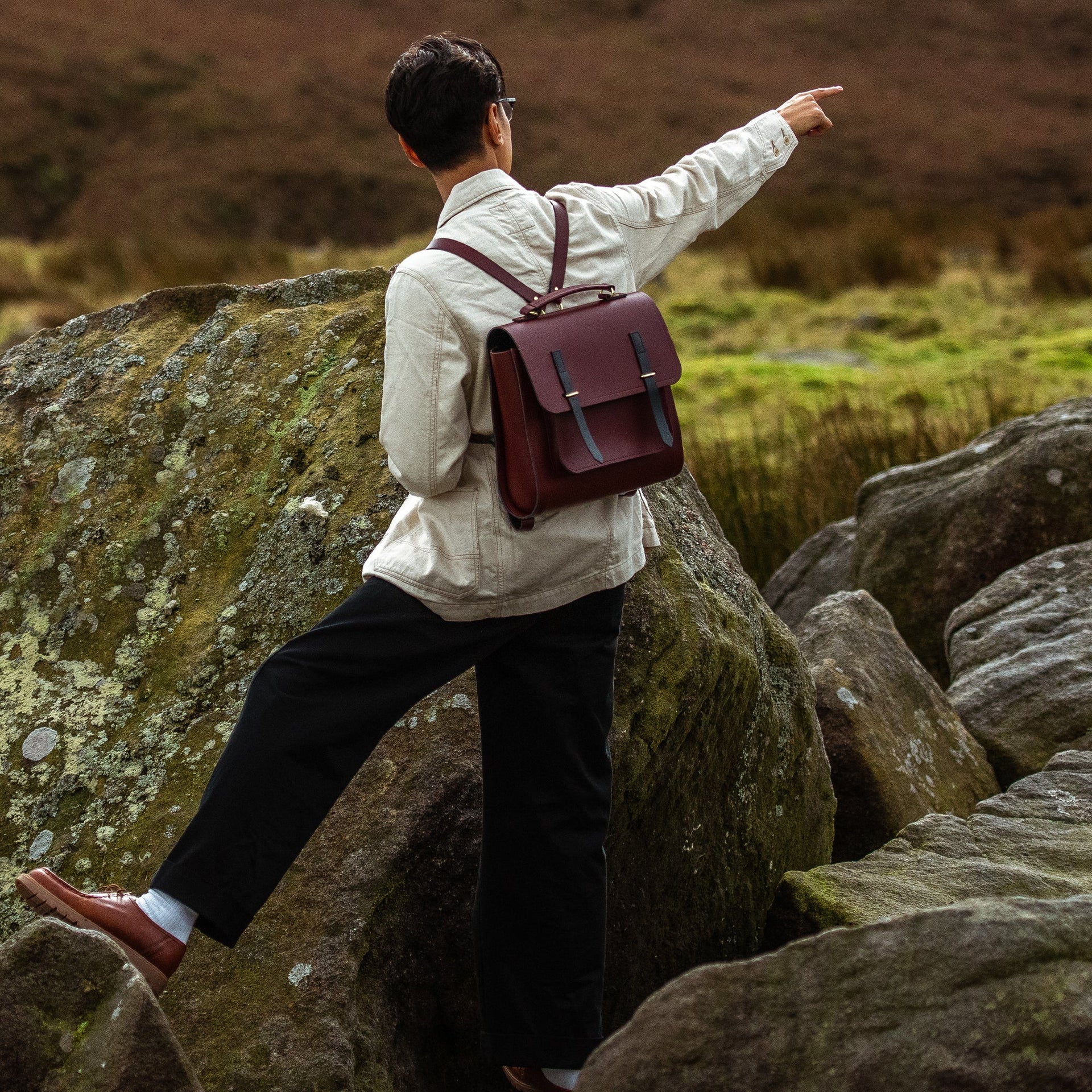 It's easy to feel spoilt for choice when trying to match a bag to your personality. But not to worry - in comes the latest addition to our website, our new Find Your Match quiz, interpreted from incredibly reliable, scientifically proven, data tested resources* and designed to help you make those all-important decisions. 
Should it be a backpack strapped to your shoulders or a clutch in hand? A handbag over your arm or a briefcase by your side? Sometimes you need that nod of approval before making a decision - and we can help with that. As your lifestyle choices dictate your needs, we have assigned our bags to five personalities that reflect our fantastic wearers. Want to find out more about them? Let's find out how our five personalities would spend their mornings…
Curious
You open your eyes, but you don't stop dreaming for that matter. Whether you're waking up at home to the sound of your favourite travel podcast, or waking up in a historic town on your latest solo city break, you take some time for yourself to take it all in. Once you're up and ready, travel guide packed safely in your bag, you decide to try something new for breakfast. Will it be a recipe you've never tried before, or some street food on the go? Either way, it'll be the first of many new experiences today. After all, if you can learn something new every day, why not learn several things?
Creative
They say creative people see the world differently, and it couldn't be truer. You wake up and you don't need a radio, a phone, or a book to entertain you. Your morning time is your inspiration time - why would you let yourself be distracted? Cereal, toast, eggs - whatever you can whip up fast is on the menu, as you just want to scribble down the ideas you've accumulated overnight in your journal. It's a morning of deep-focus writing, music or painting, and you couldn't be happier. 
Classy
After a strong eight hours of beauty sleep (but no more than that - the hustle waits for no-one), you have a solid morning routine ahead. Looking this good takes time, so you clear two hours in your schedule for skincare, curating an outfit and topping it off with your signature eau de toilette. Breakfast will consist of a black coffee and pastry, always, because you can't beat such a classic option. You're cool, classy and caffeinated, ready to head out on the town. 
Bold & Brave
It's 5am, there goes the alarm. When the day must be lived to the max, there's no time like dawn, right? You spring out of bed, shower, throw on your clothes - or rather - your adventurer's kit, assembled and hung up the night before. For breakfast, nutrition and fuel is the order of the day. Think porridge, fruit and some peanut buttery goodness. And after that, why waste time on anything else? You sling your bag of emergency supplies, snacks and waterproofs over your shoulder, packed and ready as possible. But you know that the day will throw you some curveballs too, and you relish the unexpected. Time to take on the day.
Outrageous
If you haven't stayed up all night, then what's certain is that you will have come home in the early hours of the morning. That means a 10am get up for you today - that's fine. You've missed the bus so a taxi it is. While you're waiting, you turn up the music high and pick out something dazzling to wear. Pair it with a bright statement bag, and voila. Good to go. Oh, breakfast? You'll get it on the way - a granola bowl with berries and a coffee with impeccable latte art, please. 
So what does your day look like - are you up at 5am to start work or are you running at top speed to catch the latest possible bus to the office? Are you daydreaming on the way or engrossed in a book? Did you opt to meet a friend on the weekend or have a lazy day sitting in the garden? You may now already have an idea about which personality is your perfect match… but take our quiz to be twice as sure. Channel your inner outrageousness and pick something flamboyant and daring, or, if you're as classy as our quiz suggests, head for more neutral and understated tones. Whatever it may be, let us help bring out the true you. Take the quiz here. 
*Our personalisation quiz is not, in fact, based on any fact, data or evidence, and was made for the sake of fun!
Made in England
Sustainably Sourced. Exquisitely Crafted. Redefine Your Style Responsibly with Premium Leather Satchels.
Repairs Service
Sustainably Sourced. Exquisitely Crafted. Redefine Your Style Responsibly with Premium Leather Satchels.
Sustainably sourced leather
Sustainably Sourced. Exquisitely Crafted. Redefine Your Style Responsibly with Premium Leather Satchels.